Croatia is not just a beach and sea. Here are a couple of suggestions of interesting places you can see in the area:
Sightseeing
-Mostar
-Dubrovnik
-Split
-Stone
-Kravica Falls
Recreation
-bicycle excursions
-tennis courts (on the campsite)
-organized excursions -stand up paddle tour on Bacin lakes
-diving
-boat excursions
When some family members don't feel like kitesurfing, you can take your first steps with us on windsurfing! We have been training at all levels for 10 years.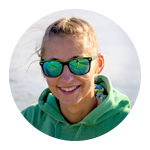 Hi, my name is Beata Delmic and I am the one who runs Surfflow camping and windsurfing base.
I have been going camping with my parents since I was a child and the love for this kind of vacation has stayed with me for life. I chose Croatia as the place to work and live, because the climate here gives a much more pleasant camping and windsurfing-kite experience :)
I love spending time actively, meeting new people, listening and exchanging experiences..