We currently have vacancies left from June 1 to August 5 and from Agust 19 to September 25!
You can come to our villa tents, with a camper, caravan or your own tent.
It is necessary to reserve a place before arrival.
It is possible to buy breakfast and dinner.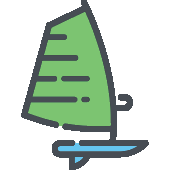 At the campsite we run a windsurfing school, where we teach children from 6 years old and adults. We provide training in Polish, English and Croatian.
We have proven equipment that allows us to teach effectively and comfortably, and the spot right next to our campsite is just perfect for learning. We invite you to visit the WINDSURFING subpage, where you will find the price list of our windsurfing school and equipment rental.